Elevating Careers: Celebrating a Successful Probation at Quad Recruitment
29 Aug, 2023
3 mins
Embarking on a new professional journey is often a blend of excitement, challenges, and oppo...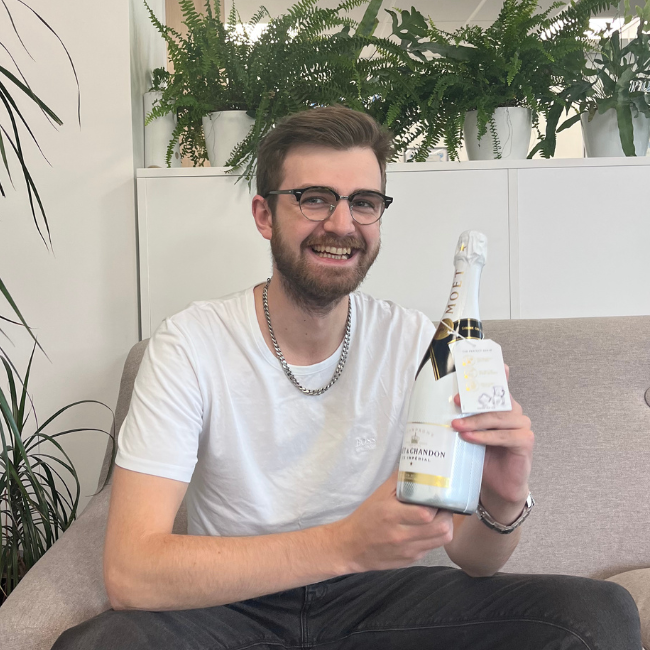 Embarking on a new professional journey is often a blend of excitement, challenges, and opportunities for growth. At Quad Recruitment, we take immense pride in nurturing the talents of our team members as they navigate these transformative phases.
Today, we shine a spotlight on Hugo, whose exceptional dedication and accomplishments have propelled them from the role of an Associate Recruitment Consultant to that of a full-fledged Recruitment Consultant. Join us as we dive into Hugo's personal insights, experiences, and reflections on their inspiring first three months at Quad.
Q: How did you feel when you first joined Quad Recruitment as an Associate Recruitment Consultant? What were your initial expectations?
I was quite nervous to start knowing how much success the team had already had and seeing the billings from the senior recruiters. Despite being nervous I was very excited to get going and learn the ropes to becoming a top biller, and I couldn't be at a better company to learn.
Q: Could you share some highlights from your first few weeks on the job? Any memorable experiences or challenges you faced?
I remember my first day of calling candidates very clearly and getting that first nibble on a job and talking to the candidate, looking back after just a couple months I think I'd have a completely different chat, but it was still exciting.
Q: How would you describe the team environment at Quad? How have your colleagues contributed to your success during your initial months here?
It is such an amazing team, you won't find many offices where literally everyone gets on and chats to each other. It also is brilliant to be surrounded by so many talented people. You can learn so much just listening to the others on the phone.
Q: As you reflect on these first 3 months, what do you consider your proudest professional achievement?
In my second month while resourcing I managed to get 5 candidates for 5 roles all placed within 2 weeks of getting the roles. It was definitely a high that I will continue to chase!
Q: What advice would you give to new Associate Recruitment Consultants who are just starting their journey at Quad Recruitment?
Listen to everyone around you and pick up on the things they say to candidates/clients as this is the foundation on which your success will be built.
Q: What are your goals and aspirations for the upcoming months now that you've settled into your new role as a Recruitment Consultant?
To continue to place top talent with their next opportunity and get up on the billings to prove myself as a serious contender to the others. I am also aiming to have brought on new clients in the next couple months.
---
As we congratulate Hugo on this well-deserved promotion, we're reminded of the boundless possibilities that lie ahead for both our team members and those who aspire to be a part of our vibrant community.
Are you excited by the prospect of a fulfilling career in the world of recruitment, surrounded by a team that values growth and collaboration? Quad Recruitment is always on the lookout for driven individuals who are ready to embark on their own unique journeys with us.
Explore our current openings and discover how you can become a part of our success story. Your next adventure starts here!