Episode Two: John Talks Your Organisations Appearance
11 Jan, 2023
4 mins
What does the leadership team say about your company online to prospective candidates?Now I'...
What does the leadership team say about your company online to prospective candidates?

Now I've got you confused, haven't I?
Yes, that's right, more and more prospective candidates are checking the leadership team out on LinkedIn before anything else when deciding if your company is for them.
Perfecting how the leadership portray themselves on LinkedIn is key to attracting the very best talent.
Bet you never thought of looking at this when developing your hiring strategy right?
Believe me, CEO, Directors, Hiring Managers and Heads of Departments you're under review.
By getting this right, you'll show candidates who you are, the 'vibe' of your company and what your companies all about. Surprisingly this will help a prospective candidate make that all important decision 'is this company right for me and can I see myself at this company'.
This has been highlighted directly from LinkedIn: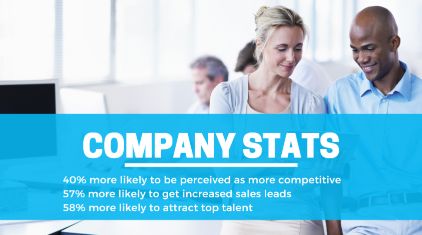 Then we look at the stats associated to Leadership using social media:
The above data was explored by LinkedIn and curated by Prophet.com.
LinkedIn also completed their own direct research based on what its own platform looks like on a cooperate and senior scale: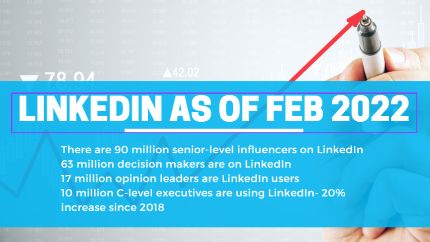 You can check out this full article: Here
From these stats you can quite easily see that organisations and senior decision-makers have a large and popular presence on social media- these could be your competitors.
Let's dig into what we recommend you do right away to start trumping your competitors and attracting talent to your organisation further.
Profile Picture
This may seem obvious. Get your face on LinkedIn. There's a level of trust in being able to see you on your profile! A lack of trust in you and your organisation comes when you don't upload a profile picture. Everyone likes to see who will be interviewing them, or who will be their senior. Provide your potential employees with the opportunity to see you.
With this being the case, make sure your profile picture is a direct reflection of what your organisation is. We recommend you follow these simple guildlines when uploading your profile picture:
It needs to be:
Clear- Ensure your picture isn't pixelated or blurry as it gives the impression of you not giving two hoots
Bright- If you don't have the facility for a professional picture taken, make sure the lighting is bright and you can clearly see yourself in the image.
Clean- Tidy up your background. Get rid of all the mess and ensure you provide viewers sight of only you with zero distractions.
Just a Headshot Please- Your face is what provides your viewers with trust, not your feet. Ensure you try your best to get a great shoulder up shot.
Background Photo
You'd be surprised how many accounts have this blank. Get it filled! This should be in keeping with your company's brand. If you don't currently have access to a background image, ask your marketing team, or whoever manages the LinkedIn/ Social Media accounts.
About section
This is your opportunity to show a bit of personality. Who are you? What's important to you as an individual? You're a human and your prospective candidates want to see this. For the professional part, share company information. Who are you, what does your company look like, what's important, what's your company values and what type of a leader are you.
Are you a manager or a leader? You get the gist. Ultimately you want prospective candidates to look and see themselves working with you.
Work History
Keep this up to date, again you'd be surprised how many people feel it's not relevant. It's SO relevant, this is where you can share your experience and share with potential candidates what your career journey looks like! They will look to this to see if they can relate.
Recommendations, Recommendations, Recommendations
I can't stress how important this is. This is where potential candidates can see who you are as a leader. Everything in life we look for a review! I bet on Amazon before hitting that add to basket you check out the reviews right? So if you haven't got any go get them. Reach out to past and present colleagues and ask for a recommendation.
Its super important to do this across your company and to keep in within brand.
Getting this right and you're on to a winner!