Quad Recruitment In The Media
06 Mar, 2017
2 Mins
4 effective ways to make your CV grab attentionOne of our consultants, Lee Woodward, was app...

4 effective ways to make your CV grab attention

One of our consultants, Lee Woodward, was approached by one of the Content Marketing Executives at GradTouch, Charlie Benson, and asked for input on an article for CV creation.
Charlie's article is below with a link at the bottom to the original source in which Lee and Quad Recruitment are cited throughout.

When writing your CV, you should be aiming to create something brief but brilliant.

One page in length is great. If it's more than two pages, it's probably too long. You can use this free CV template to get you started.
Within that small space, you need to concisely show a potential employer you're worth interviewing. Recruiters don't typically have much time to spend looking over your CV and, unfortunately, may not look at a cover letter.

A common trap many grads fall into when writing their CV is making broad statements about their skillset, or themselves as a candidate, without substantiating what makes them a good fit for the role.

So, when it comes to both your opening statement and detailing your previous work experience - be sure to hone in on what sets you apart in a meaningful way.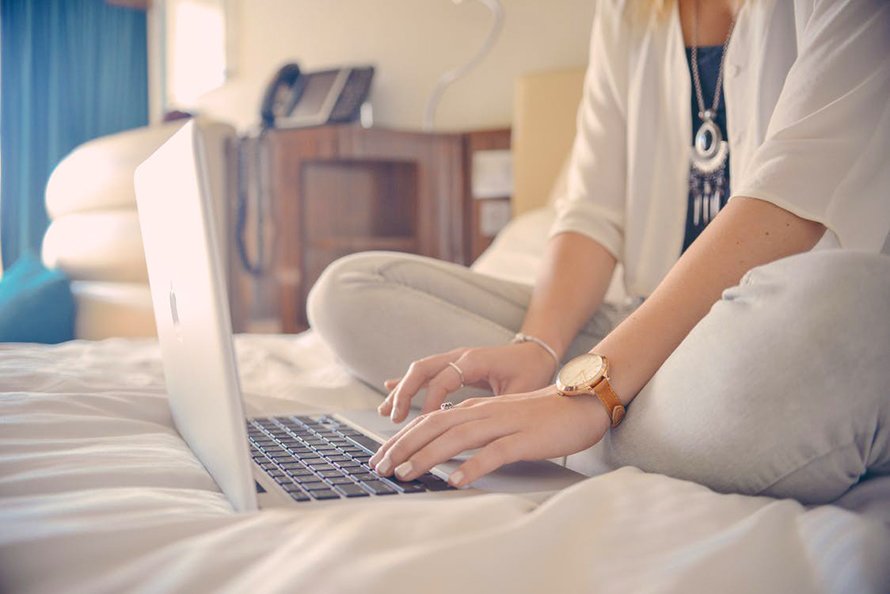 I spoke to Lee Woodward, a Recruitment Consultant at Quad Recruitment Ltd, specialising in placing IT, Health and Socialcare professionals in the UK. Lee tells me, "it's massively important to show not tell" on your CV.

He gives the example: "I'm dynamic and work well in a team, but also on my own", as something grads often open with. Lee says, "we don't need to see that because it instantly screams generic".

Here are some tips for effectively showing, not telling, on your CV - to help you steer away from the generic.

1. Use data.
Numbers speak for themselves. They give the recruiter something tangible to rely on, showing your impact at previous companies. They also, when written numerically ("3", not "three") stand out on the page, which is ideal if your application is being read through quickly.
Lee tells me graduates should use data wherever they can on a CV and gives the example of someone applying for a social media role with some digital marketing experience. Rather than talking vaguely about how your previous work required you to write and schedule posts - quantify the difference you made to the business.

He recommends using "simple bullet points" under each of your previous job titles.

In the case of the digital marketer above, Lee thinks it's better to say:

"For X project, I grew their company Facebook by 15%, Twitter by 7%, Instagram by 6% and Pinterest by 4%.

"Click-throughs to the site from social media platforms rose by 5% and basket spend was up by 34p".

Lee says this works, because "not only are you saying you've done this, you're showing that you've had growth and success doing it.

"I love finding out what people's best achievements are. A few bullet-points on what you've done and any key achievements under said job is a head-turner for me."

If you aren't 100% sure of the stats, you can give a range. And, even if the work you did was not directly targets-based or measured numerically - you can still find ways to insert figures to give your experience more specificity. For example, "collaborated with a 15-20 strong team," sounds better than "experienced working in a team environment". "Made 100-150 calls per day to generate new business", is better than "in this role I was responsible for making sales calls". It gives the employer more to go on and is far more convincing.

2. Give relevant examples.
If your CV is still lacking in numbers and data, using examples is your best bet. Clare Rutherford, who oversees all Recruitment at GradTouch, says grads can prove they have the skills they need for a job by giving examples of times they used them. She recommends you ""go through the job role and work out the 3 key skills needed to succeed.""
"Then, tell a story that shows you have them - if you don't, you probably shouldn't be applying."

For instance, if you're applying for an Account Manager position within a Sales team, strong communication skills, a positive outlook and confidence are going to be high up on their list of requirements. Rather than using the summary statement at the top of your CV or your skills section to say ""I have strong communication skills"", ""team player"", ""great with people"" - think back through your employment history for times you demonstrated those skills. Don't tell the hiring manager you're a team player, show them. Prove you are.

One way to do this would be to briefly detail the social event you organised for your previous company to bring the team together - how did you cater to the needs of all the different people on the team? How did you coordinate and execute it? Or, if you're fresh out of uni - you could talk about the time you confidently took the lead on a group presentation, or were responsible for representing and speaking about your society in a promotional video. If you were chosen by your peers to lead a sports team, that demonstrates you're confident and good with people - without you saying it yourself.

3. Ditch the buzzwords in favour of action words.
A carefully selected, powerful verb goes a long way. If you're a motivated self-starter - give an example of a time you showed those qualities, using words like "launched", "initiated" or "spearheaded". This prevents you just repeating the job description back to the recruiter and gives the data and examples you're now including in your CV more life.
Useful verbs for showing you're a team player, without saying you're a team player, would be "collaborated" or "liaised". To demonstrate impact, try "improved", "increased", "grew", or "decreased".

4. Get to the point.
Finally, when writing your CV, always ask yourself if the information you're including is necessary and relevant. A recruiter shouldn't have to sift through your CV to find the most important bits, everything there should be crucial to proving you'd be amazing at the role on offer.
Think about what you are trying to say, and seek to communicate it in the simplest, clearest and most convincing way possible - using bullet-points wherever you can. "