How to Become a Pharmacist
01 Mar, 2023
2 mins
Pharmacists play a vital role in keeping our hospitals, pharmacies and health care organizat...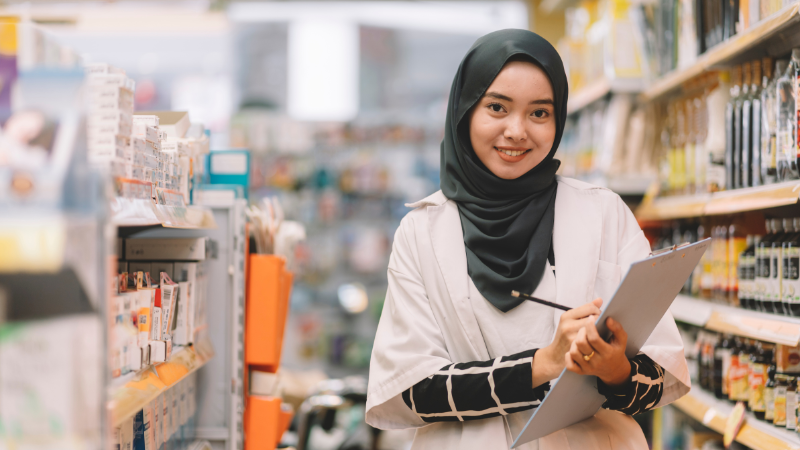 Pharmacists play a vital role in keeping our hospitals, pharmacies and health care organizations functioning. They help patients maintain their health by prescribing and dispensing the correct medication for ailments, they help patients and in-home carers in the community with chronic health conditions, and they carry out research and development into new and improved medication. If you're interested in working in the healthcare sector, you might be considering a career in pharmacy. We've put together this post to provide you with more information about how to become a pharmacist, what qualifications you will need, how long it takes to become a pharmacist and more.
How do I know if becoming a pharmacist is the right choice for me?
If you've found this blog post, this is likely a question you'll have asked yourself at some point. And it's a good question. Becoming a pharmacist is a big commitment that takes a lot of time and effort, due to how long you need to spend in school and the number of qualifications required. So you want to make sure you're pursuing the right career before you throw yourself in to becoming a pharmacist.
First of all, an interest in healthcare and pharmaceuticals is a must. Once you've became a pharmacist, you will spend a lot of your day in a healthcare setting, handling medication and pharmaceutical materials. You will probably also enjoy working with people. While there are some pharmaceutical settings with little patient contact (pharmaceutical informatics or lab-based pharmacy), most settings require you to interact directly with patients. So it will help a lot if you actually enjoy dealing with patients!
If you're somebody who is well organized and has impeccable attention to detail, a career in pharmacy could be right for you. Pharmacists work with a huge inventory of medications, and could be juggling multiple requests for lots of different patients at any one time. So good organizational skills help you keep on top of all of this. While attention to detail is important for ensuring you get prescriptions right and catch any errors before any medication is administered to patients. Mis-prescribed medication can have pretty drastic consequences, so attention to detail is essential for reducing the likelihood of this.
One other thing that might help you decide that becoming a pharmacist is the right decision is the benefits the career brings. Firstly, pharmacists are pretty well paid, enjoy lots of responsibility and have a great career outlook. And a pharmacy career can offer lots of variety. At different points in your career, you could find yourself working in the community, in ambulatory care, in a hospital or in a lab (find out more about where pharmacists work.
And if you still want to work in healthcare or pharmaceuticals, but you're not sure you want to spend so long in education, or perhaps you don't want to take on as much responsibility, you might consider a career as a pharmacy technician. Check out our post on how to become a pharmacy technician for more information.
What qualifications are required to become a pharmacist
One of the main reasons it takes quite a long time to become a pharmacist is because of the number of qualifications, training and certifications required. And given pharmacists are the people responsible for deciding what course of medication patients take, the amount of training is definitely a good thing!
Generally, the basic requirement for becoming a pharmacist is a doctorate degree and the relevant state licensing. But it's usually a bit more complex than this. Let's take a look in more detail about how to become a pharmacist, step by step.
Aspiring pharmacists are required to complete a minimum of two years undergraduate college education, but many do the full four years. This should be in a science or math based subject such as biology, chemistry, physics or mathematics.

Two years of math or science undergrad education makes students eligible to apply for a Doctor of Pharmacy, or Pharm.D. program. To get on to a Pharm.D. program, you also need to pass the PCAT (Pharmacy College Admissions Test), which is offered at regular intervals throughout the year. The Pharm.D. course itself typically lasts two to four years and covers things like writing and managing prescriptions, pharmaceuticals, toxicology, pharmacy law and pharmacy ethics.

Once you've completed your Pharm.D. you will need to get a pharmacy license for the state you want to work in. To get your state license you will complete a practical internship and sit both the NAPLEX (North American Pharmacist Licensure Exam) and the Multi-State Pharmacy Jurisprudence Exam. NAPLEX is focused on pharmacy practices, skills and prescriptions, while the Jurisprudence exam is about pharmacy laws in the state you want to work in.

If you will be administering vaccinations in your role, there is an additional licensing program from the American Pharmacists Association you'll need to complete as well – the Pharmacy-Based Immunization Delivery Program.

Once you've completed your theoretical and educational training, and received your license, you'll need to get some practical, on the job experience. Most pharmacists take a one to two year residency program which includes some professional experience. This is often the best option if you already know that you want to specialise in a particular area of pharmacy, as you can try and secure a residency in that specialist area. Others choose to do an on the job training program where you learn about the organization where you're doing the training, for example their prescription management system and workflows.

Some pharmacists may choose to take additional training and certifications to allow them to specialise in particular pharmaceutical fields, for example nuclear pharmacy.
How long does it take to become a pharmacist
Given all the steps listed above, you may be wondering how long it actually takes to become a pharmacist. How many years it takes to become a pharmacist depends on the route you take and the amount of time you spend on each stage of the educational requirements.
Realistically, the minimum is 6-7 years of training and education after leaving high school. This includes the two years of a bachelors degree, four years of Pharm.D., and a bit of extra time to obtain any licenses and certifications. Since most pharmacists-to-be also complete a residency or training program, the time required to become a pharmacist is usually more like 8 years.
What skills are important for becoming a pharmacist
Some skills that are typically important for pharmacists include:
Math & mental arithmetic: pharmacists are often required to calculate dosage and amounts of medications, so a good grasp of numbers is important.

Attention to detail: This one is a must. In healthcare settings, mistakes can be lethal. So attention to detail is essential for making sure patients receive the correct medication, and, crucially, the correct dosage.

Ability to work under pressure: This one is particularly important for hospital pharmacists, but applies to any pharmacy roles. There's rarely a quiet day as a pharmacist, and you'll likely be juggling lots of patients' requests at any one time. So it's essential to stay cool and calm under pressure.

People skills / communication: As a pharmacist, whatever clinical setting you're in, you'll have contact with a wide range of people from different backgrounds: patients, doctors, pharmacy techs, nurses, insurance reps etc. So strong people skills and communication skills are key for helping you manage these relationships.
How to find a job as a pharmacist
Once you've completed all the steps in our guide on how to become a pharmacist, and you're now a fully qualified and licensed pharmacist, you might be thinking where is the best place to actually find your first proper job as a pharmacist.
Many pharmacists find work via their training program or residency. If the organization or department where you completed the program were impressed by your work, you may be offered a job with them.
Others use pharmacy recruitment specialists like Quad Recruitment to find work. This is a good option, as pharmacy recruiters usually have multiple roles that may be relevant for you.
Another option is looking on job boards for roles in your area. The fact is, pharmacists are in demand, so once you've got your foot in the door, you'll most likely have no shortage of offers from potential employers.
Hopefully you've found this information useful and it's now a bit clearer to you how to become a pharmacist. We wish you the best of luck on your journey to become a pharmacist, and don't hesitate to get in touch once you're qualified and we'll be happy to help you find your first job as a pharmacist!