How to Become a Pharmacy Technician
01 Mar, 2023
2 mins
Looking for a career in the Pharmacy industry, specifically, as a Pharmacy Technician? Great...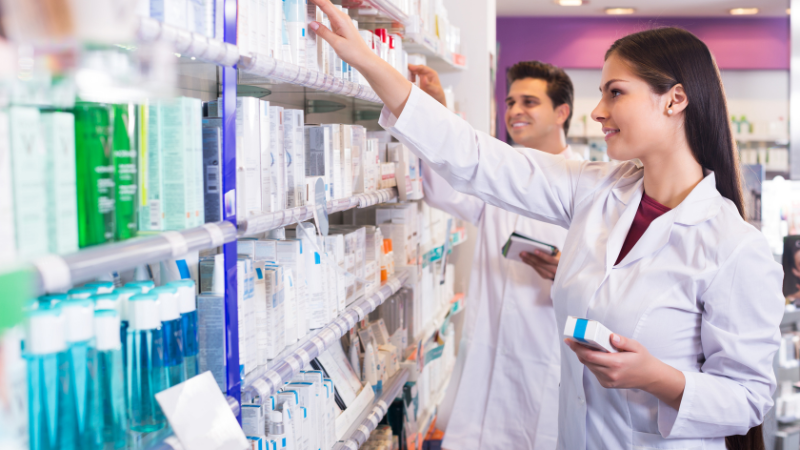 Looking for a career in the Pharmacy industry, specifically, as a Pharmacy Technician? Great news – we've written this post to help you understand how to become a Pharmacy Technician and get to grips with the role. Read on to find out more about becoming a pharmacy tech, and what roles and responsibilities a pharmacy technician typically carries out.
What is a Pharmacy Technician?
Pharmacy technicians work alongside qualified Pharmacists to accurately and securely protect patient prescriptions. The role isn't just counting pills and popping labels on bottles (It's not quite like the we see in the movies). The roles and responsibilities of a pharmacy tech are far greater than this. Essentially, the pharmacy technician is the Pharmacists 'right hand man'. Responsibilities typically include tracking insurance claims, all the way to preparing unique medications for clinical use.
Depending on the pharmacy setting, a pharmacy technician's duties may include mixing, measuring, and compounding medication in preparation for collection. They are also responsible for communicating regularly between doctors' offices to confirm medications for dosages and repeat prescriptions. It's fair to say that every day is different for a pharmacy tech!
The chances are, if you've ever picked up some medication from a Pharmacy, you'll have met and interacted with a Pharmacy Technician. Pharmacy techs always work under a pharmacist and are typically the interface between customer and Pharmacist in an average day. Most interactions the public have in a Pharmacy is with the Pharmacy Technician.
What exactly does a Pharmacy Technician do?
Depending on the setting you've chosen, the roles and responsibilities of a pharmacy technician will differ a bit. The biggest difference between settings is between Retail and Healthcare. The main difference is that in a retail setting you will be public facing, dealing with the public in more of a customer service role. While in a healthcare setting, you'll be behind the scenes a lot, delivering medication to doctors and other healthcare professionals.
According to Nurse.org these are some of the duties pharmacy technicians may be required to undertake:
"Counting or measuring the accurate amount of medications

Mixing compounds of medications

Contacting physicians for authorization to refill prescriptions

Packaging and labelling prescriptions.

Collecting patient information and payments

Recording patient medical records

Updating medication inventory information

Processing insurance paperwork

Assisting with vaccinations

Operating automated dispensing systems

Advising patients on medications

Organizing and ordering inventory

Answering phone calls from customers

Arranging for customers to speak with pharmacists

Accepting payment for prescriptions and processing insurance claims"
If you want to find out a bit more about the difference between the typical duties of a pharmacy technician and a pharmacist, check out our pharmacy vs pharmacy technician post.
How do I become a Pharmacy Technician?
Let's get down to the important details. You want to know how to start this amazing career and become a pharmacy technician!
Years ago, you could become a Pharmacy Technicians through being trained on the job and building up your knowledge and experience in the field. This option is still technically available. However most Pharmacy Technicians choose to join formal training programs. This provides them the theoretical knowledge and confidence to be able to handle complicated medications and deal with patients and customer in a safe and correct way. It also provides more career options in different states.The two main recognised training programs for Pharmacy Technicians are a Certificate or Diploma program, and the Associate degree program. Below are the two course types for becoming a pharmacy technician, and the information you need to consider prior to choosing your course type.
Pharmacy Technician Certificate or Diploma Program
The pharmacy technician certificate course or diploma program will take you one year or 2 semesters. Some states require you to pass an additional exam after completing this course in order to be fully certified. You'll see this in greater detail towards the backend of the blog.
During the course duration you will learn the following:
Compounding sterile preparations
Drug classifications
Pharmacy Law
Institutional Pharmacy Practice
Introduction to Health Professions
And more…
Pharmacy Technicians Associate Degree Program
This course option gives you a deeper look into the pharmacy world and will provide you a wealth of knowledge prior to becoming a licenced Pharmacy Technician. This course takes two years to complete. Therefore you will learn about all the topics listed above under the Pharmacy Technician Certificate or Diploma Program, and far more on this program. The modules covered in the Associate Degree Program are highly detailed, and you'll also have opportunity to complete an in person clinical training programme and a Pharmacy practice internship (which can lead into fulltime employment).
When deciding which program suits you best, it's worth considering what your end goals look like. If your budget is lower and you'd like to start working quicker, you might consider going for the diploma program, as this takes just the one year. However, if you choose the degree option, you will naturally be in more demand with potential employers early on in your career, due to the extra training and education you've received. Both are entirely valid choices, and once you start to build up more experience, and demonstrate your skills and quality as a pharmacy technician, whether you chose to do one or two years of pharmacy tech school will start to be a bit less relevant compared to the practical work experience you've gained.
Do I need a licence to become a Pharmacy Technician?
After completing your Pharmacy Technician training it's strongly recommended that you obtain a license. This is provided by a government agency who have the capacity to prove you are competent to complete the duties of pharmacy technicians.
There are a small number of states, for example Hawaii and Wisconsin, that do not require you to have a pharmacy technician license. However, your opportunities and salary may be limited if you don't have a license. So it is always the best option to gain this license/registration
An alternative to the license is a certification. This certificate comes through a third-party issuing body, such as the Pharmacy Technicians Board (PTB) or the National Healthcareer Association (NHA), and not your state agency.
Both bodies will require you to complete an exam: the Pharmacy Technician Certification Exam (PTCE). This certification only lasts two years and there are numerous speciality certification programmes available through the PTCB. These are all outlined below:
Certified Pharmacy Technician (CPhT) – This has to be renewed every two years by completing a minimum of 20 hours of continuing education.
Certified Compounded Sterile Preparation Technician (CSPT) – the CSPT demonstrates expertise in compounded sterile preparation practice.
Advanced Certified Pharmacy Technician (CPhT-Adv) – this certification demonstrates advanced experience as a pharmacy tech
Medication History Certificate – the MHC demonstrates you have the knowledge needed to collect accurate medical histories, in order to review prescriptions and confirm dosing accuracy, and more.
Technician Product Verification Certificate – this demonstrates your ability to protect patients from dispensing errors.
Hazardous Drug Management Certificate – as the name suggests, this certification demonstrates the ability to minimize risk from hazardous drugs.
Billing and Reimbursement Certificate – particularly useful for patient / customer facing pharmacy technicians, this certificate demonstrates your knowledge of third-party payers and reimbursements systems.
Controlled Substances Diversion Prevention Certificate – this demonstrates knowledge strategies for controlled substance diversion protection and any associated DEA requirements.
Immunization Certificate – this demonstrates the knowledge and skills required to safely administer vaccinations to patients.
How long does it take to become a pharmacy technician
It typically takes 1-2 years to become a pharmacy technician, depending on whether you choose to pursue the Pharmacy Technician Certificate/Diploma Program or the Pharmacy Technicians Associate Degree Program. The certificate or diploma program takes one year to complete, while the associate degree takes two years. You may need to factor in any additional time needed to get certified and/or licensed in the state you want to work in. And then you're ready to hit the ground running as a pharmacy technician!
We hope this blog has given you some insight into what it takes and how to become a Pharmacy Technician. We wish you the best of luck for your career path. And once you are officially qualified as a pharmacy tech, get in touch and we'll be happy to help you find a role!