How To Become & Excel As A Pharmacy Technician
21 Nov, 2023
6 min
Pharmacy technicians play a vital role in the pharmacy sector by offering customer service, ...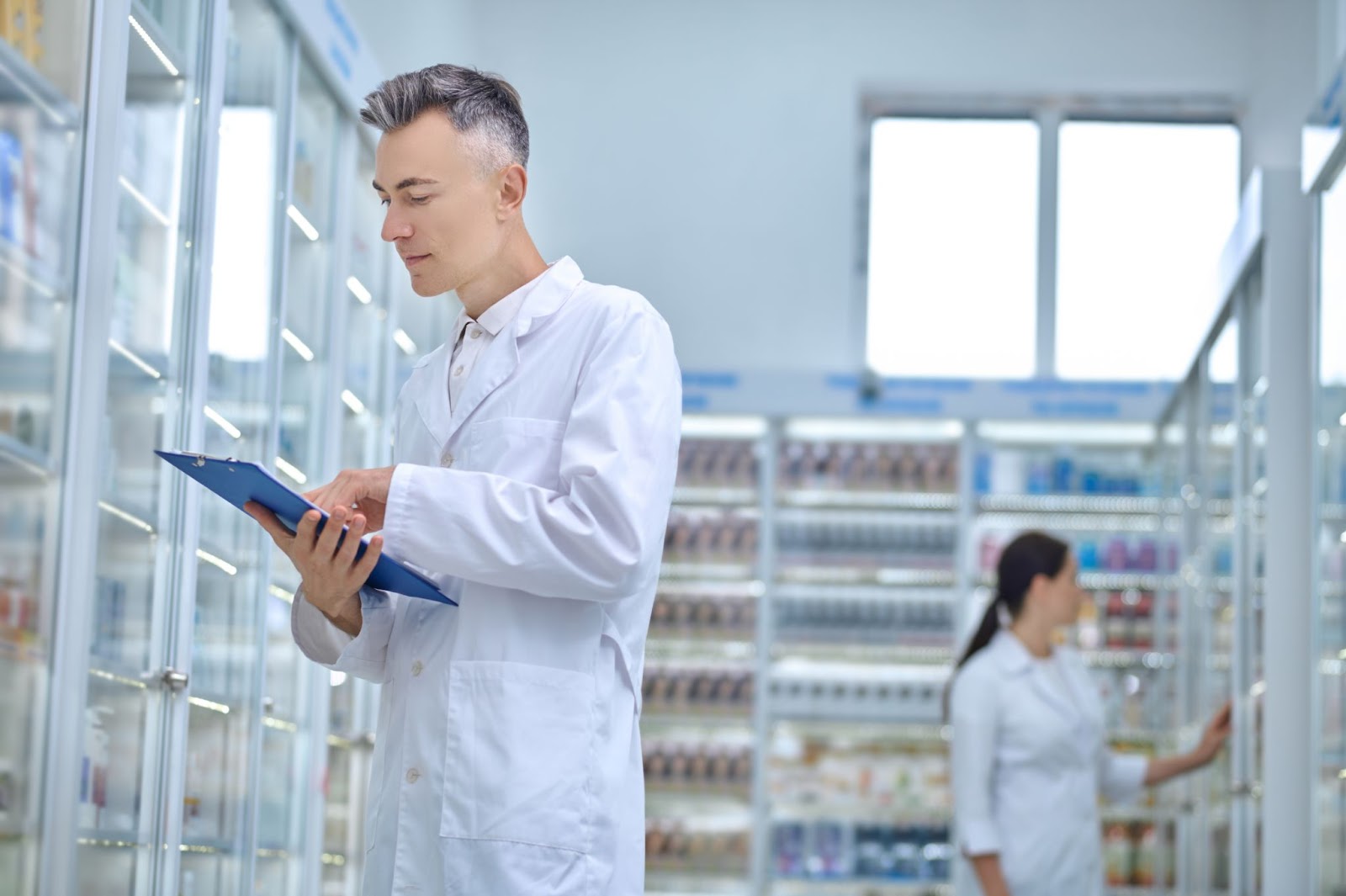 Pharmacy technicians play a vital role in the pharmacy sector by offering customer service, processing insurance claims, communicating with physicians, and, in certain conditions, engaging in simple medical procedures like administering vaccines. If you're looking to begin your pharmacy career as a technician, it's important to have an understanding of basic health care, administrative, and organizational work.
Beyond just the financial compensation, working a pharmacy tech job can also be very fulfilling. However, both becoming and excelling as a pharmacy technician requires a clear understanding of the essential skills needed and how to acquire them.
This article will focus on critical skills that will help you advance in your career as a pharmacy technician and explore new pharmacy tech jobs. These tips are designed to coincide with everything you need to become a pharmacy tech, but instead focus more on the side of everything you need to prepare beforehand to put yourself in the best position to succeed.
Essential Skills That You Need To Master As A Pharmacy Technician:
Communication Skills and Customer Service
Having clear and direct communication is one of the key aspects of excelling your role as a pharmacy technician. Mastering this skill will help you have clearer interactions with patients, physicians and colleagues. It includes both verbal and written communication, ensuring that all discussions are accurate and productive.
This also involves providing excellent customer service for creating positive patient experiences. This involves addressing patient inquiries, concerns and needs with empathy and professionalism.
Pharmacy Knowledge
A solid understanding of different types of medications, dosages and pharmacy environments is a fundamental skill that every pharmacy technician should master. This involves staying up-to-date with new industry trends and ensuring that prescriptions are properly filled. This leads to safer and more effective patient care.
You can enhance your pharmacy knowledge by pursuing additional work experience opportunities such as internships and apprenticeships as well as obtaining new certifications.
Problem-Solving
Pharmacy technicians deal with a wide variety of different challenges on a day-to-day basis, from prescription discrepancies to insurance issues. Therefore, strengthening your problem-solving skills is a fundamental aspect of helping you identify issues, analyze different scenarios and quickly implement effective solutions.
Adaptability
The healthcare industry is dynamic and constantly evolving. Therefore, pharmacy technicians must learn to adapt to changing technology, processes, industry norms and regulations. This means being open to learning, staying flexible and adjusting to new environments and circumstances. This skill will help you thrive in the evolving landscape of the medical industry.
Administrative Skills
While broad pharmaceutical skills are crucial for any pharmaceutical technician, administrative skills are also an essential aspect of efficiently operating a pharmacy. This skill set includes accurate record-keeping, monitoring insurance claims and optimizing billing processes.
A Step-By-Step Guide To Excelling As A Pharmacy Technician:
Available Positions: Understand Jobs and Opportunities
Start by exploring the different jobs available in your state and your desired location of work. From retail stores and hospitals to specialty pharmacies, each healthcare setting presents unique challenges and responsibilities.
An understanding of each of these roles and their specific complexities will help you make a decision. For example, in a hospital, you will probably be required to handle a diverse range of prescriptions and medication while in a retail pharmacy, your primary focus might be customer service. Understanding the requirements of different pharmacy technician jobs will help you pinpoint the position that aligns with your career goals.
Educational Requirements: Get the Right Certifications and Training
Becoming a pharmacy technician requires obtaining the proper certifications and specific training programs. Focus on exploring a pharmacy technician certification that aligns with industry standards and will equip you with essential skills such as understanding pharmaceutical terminology and calculating dosages.
To become a certified pharmacy technician, you'll have to pass either the Pharmacy Technician Certification Exam (PTCE) or the Exam for the Certification of Pharmacy Technicians (ExCPT). To be eligible for the PTCE, you need to finish one of the 1,400+ recognized training programs or have accumulated at least 500 hours of experience working as a technician in a pharmacy.
Certifications like the Pharmacy Technician Certification (CPhT) from the American Society of Health System Pharmacists (ASHP) cover clinical and administrative aspects of pharmacy practice. Eligibility for this exam includes a high school diploma and the completion of an ASHP-accredited program.
Work Experience: Internships and Apprenticeships
It's beneficial to look for internship opportunities that can help you build relevant experience and transferable skills. Positions in customer service and retail can enhance your ability to work effectively with the public. Opportunities in healthcare settings, such as hospitals, pharmacies, or labs, provide exposure to medical terminology and systems. This will help you gain hands-on experience in various patient care tasks. These experiences also contribute to building your workplace skills like communication, organization, administrative skills, etc.
You may also consider seeking mentorship from experienced pharmacists and collaborating with fellow professionals in the medical industry to broaden your knowledge.
How long does it take to become a pharmacy technician?
Enrolling in a pharmacy technician training program is a common route to pursuing this career path. These programs may range from a few months to a year, depending on whether they are certificate-based programs or more detailed diploma or associate degree programs.
Most aspiring pharmacy technicians choose to accumulate the necessary skills through practical on-the-job training through an internship or apprenticeship in a pharmacy setting. Gaining 500 hours of experience in a pharmacy is an alternative path to becoming eligible for the PTCE.
On average, the entire process- from obtaining the educational requirements to becoming certified- can take anywhere from 6 months to 2 years.
Quad Recruitment USA: Elevate Your Pharmacy Technician Career Today:
Beginning your journey of exploring pharmacy tech jobs is not just a step but a leap toward a promising future in the healthcare industry. By following the actionable steps outlined in this guide, you can establish a strong foundation for your career as a pharmacy technician and elevate your prospects within the healthcare industry as a whole.
Now that you're ready, connect with Quad Recruitment USA to discover and secure your ideal role in the pharmacy industry. Contact us at +1 (929) 695 9147 or info@quadrecruitment.com for more information and personalized assistance.