Top Reasons for Becoming a Pharmacist
11 Aug, 2023
3 mins
Achieving your official qualification as a pharmacist will no double be one of the best days...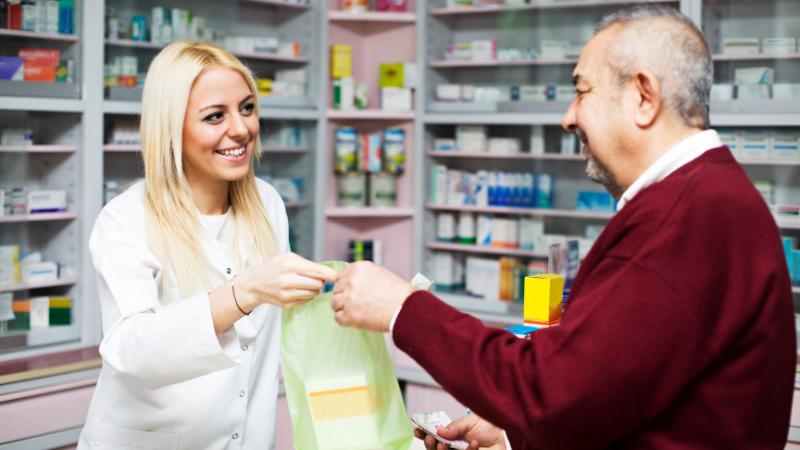 Achieving your official qualification as a pharmacist will no double be one of the best days of your life. You've now worked as a pharmacist for a few years and you're now forgetting what you love about pharmacy? You've become bored of the constant rude customers. Your workload is mounting. You've completely forgotten why you wanted to become a pharmacist?
We're here to remind you of the core reasons you love being a pharmacist!
You like to work with people.
Pharmacists are the go-to in most communities for questions they need answering easily to their health ailments. This can be done both confidentially or just at the till. You are available during working hours to the public and are often a form of heart to the surrounding community. You will support the public with their vaccination upkeeping, asthma, care and general health maintenance checks.
You love to help people.
You as a Pharmacist play a huge role in getting the community back to a good state of health. You as a medication master can assist the customer/patient in getting better faster and more effectively, through taking medication properly. You can also assist in implementing lifestyle changes to help the patient live a healthier life- nicotine management, diet and lifestyle changes.
You love to be flexible
Being a pharmacist allows you the opportunity to choose lots of different jobs within one trade. Even though 45% of Pharmacists choose to work within a community chain pharmacy, there are lots of other options out there for you to explore once a qualified Pharmacist. I.E Hospitals, nursing homes, schools, or for the government. In all medication professions you will find a pharmacist somewhere, so your opportunities are endless…
They need us
You'll never be short of a job. There's always a huge demand for Pharmacists within the US. This is due to several factors a few being: Increase in demand for patient services, a larger amount of prescription requests, more than ever there's a large increase in the variety of medications available, there's more elderly people now than ever before- and they typically have more illnesses that require specialised medication.
I love working with high grade medical professionals
As a high-grade medical professional, yourself, you will be working with other incredibly high-grade medical professionals too. This allows you the opportunity to work with these individuals to lower the mistakes made, with medication. It's estimated now that having a pharmacist complete a patient round within a hospital decreases the chances of a medication mistake by 95%. When you collaborate with other healthcare professionals it's shown to enhance the knowledge we have being medications. You know the medications and they see the side effects on the patients directly.
I can work flexibly
This point may not be accurate to all of you. But as you are so in demand you can work as a contractor. Working wherever and whenever you want. Doing this bring you that home to work life balance back.
You can be a changer
You could be a part of a big change in the Pharmacy future. Innovating new medicines for the public to reduce illnesses. You may implement a new type of working pattern which becomes the normal for Pharmacies. We're seeing more and more pharmacies resort to being 100% online. Could this be you in the next five years?
I love that tech is taking over
Now that the Pharmacy robots and new tech systems are stepping into many pharmacies across the US, it's making your job as a pharmacist far more effective. Making a Pharmacy department or store automotive it allows for other duties to be picked up by you and the other pharmacy professionals to make for a better service for customers and patients as well as improving the standard within your setting. You're out of the stone age and into the tech era! WELCOME.
There are many reasons why you chose to become a pharmacist. Don't forget why you originally chose to become a pharmacist and some of the outstanding changes that are starting to creep into your duties. These changes are exciting and will enhance your career.
If a career change will assist you in remembering why you love being a pharmacist, then this is where Quad Recruitment can assist you.
We work with multiple leading Pharmacy brands across the USA with live vacancies for you to explore. To check out these vacancies, head over to our website or speak with our consultants directly. CLICK HERE
Email: info@quadrecruitment.com
Phone: +1 929 209 9032